Ten Creative Ways To Use Logs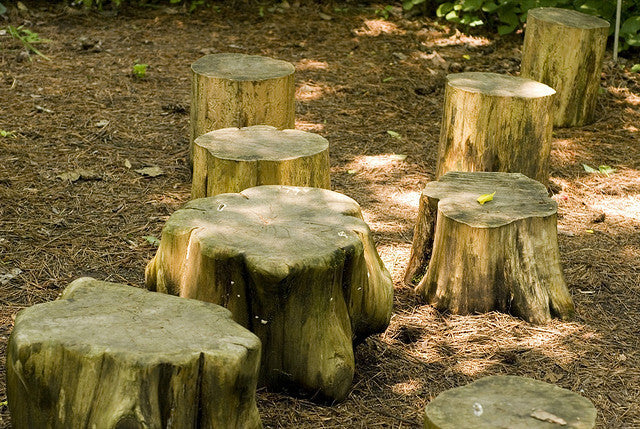 You'll Love These Ideas!
Logs---they represent the epitome of nature: their aromas, their textures, their grains, their colors and their versatilities.   Reclaimed-wood lends warmth to any room and infuses a space with a sense of organic charm. Everything from log-homes to furniture to a source of fuel for a fireplace are all relished thanks to the different ways in which logs can be used. There are, however, some unusual ways these magnificent, natural creations can be applied--ways that just might delightfully surprise and inspire you!
1: Eye-catching Tea-light Holder:
This item can be easily made if one has a few basic tools. A bark-covered log is power-sawed in half, lengthwise, to produce a smooth, level cut. The cut side will be placed down on a table while the arched, 180-degree barked-top will provide the aesthetics. Use a router to create 3" openings, spaced about 3 or 4 inches apart, on the barked surface. In each opening place a 2 ½" tea-light---a warm glow from a rustic log with multiple tea-lights! How adorable!   This log could also serve as a center piece for a table decorated for the holidays.   Thick candles placed in the openings could be substituted for tea-lights with the log surrounded by festive greenery and brightly-colored ribbon. This would serve as an exquisite gift for anyone who loves the look and feel of the outdoors!
2: Dynamic Headboard:
Headboards don't have to be boring, especially since logs can be used to 'spruce' up (no pun intended) a bedroom wall. Whether you live in a rustic log-home or simply love that kind of ambiance, this project will offer an outdoorsy look and feel that you will fall in love with! Simply outline, with pencil, a rectangular shape on the wall-space where a headboard would be. The penciled outline would be covered with small-sized logs (about 3 to 4 inches in diameter) sawn in half, lengthwise—the flat surface would be the side of the log that would be attached to the wall. This would allow the barked exterior to serve as the headboard's frame. Before the logs are drilled into the wall, decide what you would use to fill the inside wall space—think of it as a picture inside of a frame.   The space within the log frame could be antiqued paint that would offers a crackled effect; it could be burlap material or rustic wallpaper with an outdoorsy twig or reed design; or you could use wall-texturing to achieve a rough, coarse appearance. Whatever look you might choose for the inside of the head-board area, use earthy colors such as tans and browns to coincide with the color of the logs that will form the frame of the headboard—it will look fabulous! Rustic furnishings throughout the room will complement this most-unusual headboard and it will be a guaranteed conversation piece!
3: Support-pole Coverings:
If your idea of a warm and inviting living area in your basement translates into a look that you want to be rustic and reminiscent of log-home living, then you just might like this idea! The vertical steel support poles in basements are nothing short of an eyesore.   Simply painting them does virtually nothing to produce any kind of warmth and appeal; but this idea sure does: use whole logs that are free of bark and butt 3 logs of the same length up against each steel support pole. The logs would be anchored to one another with steel braces.   Having perfectly shaped logs would not be required nor necessarily desired.   Stain the logs if desired and apply a coat of matte-finish polyurethane. Now here's the cool part: attach a wrapped seating arrangement around the entire perimeter of the logged area and add rustic pillows for a splash of color and comfort! You've not only covered those ugly poles, but you've added incredible ambiance to a basement family or rec-room in addition to providing extra seating for friends and family!
4: Bark-edged Coffee Table:
A bark-edged coffee table would certainly add a taste of the outdoors to a rustic living room or den! You can acquire sawn logs from almost any saw-mill; and being able to acquire a single piece of wood about 16" wide and 3 feet, or longer, in length would be ideal.   Add some stain and polyurethane to your table-top and pre-constructed table legs and you are ready to add an exquisite piece to your countryside interior!
5: Log Handrail:
Most handrails in any home are utilitarian and void of any personality; but you can change all that by replacing a generic handrail with one that is crafted from a log long enough and slender enough to take the place of its no-frills contender. The bark doesn't need to be removed but the piece should be sprayed with polyurethane to add durability and a smoother feel. This super-simple touch will definitely add a woodsy flair to any stairway!
6: Stumps for Stools:
If you truly enjoy a back-to-nature feel; you can incorporate tree stumps as stools for a smaller table in an eating nook or larger table in a dining room.  The stumps would be sawn flat across the top; and though this type of seating could become somewhat uncomfortable; that issue is resolved by placing round seat cushions on top!
And since we're on the topic of stumps, they can be used as bold legs for a glass-topped coffee-table or end-table—a great way to combine country with contemporary!
7: 'Log' Your Time:
Acquire a slice of a sawn log; and the slice—with bark in-tact—should be 1 to 2 inches thick with a diameter of 12" or more. You can stain and seal the wood or white-wash it depending on the look and feel you desire.   To add richness, add numerals made from weathered or hammered brass, tin or iron and position into place. A battery-operated clock-mechanism kit will supply all the necessary components and instructions to complete your fully-functioning log-clock!
8: Tree-mendous Bed-posts:
Talk about conversation starters—this idea is outlandishly cool and easy to create, assuming you can find 4 small trees (about 5 to 6 feet high) that you would be allowed to topple and take home as your own. If your country bedroom has a bed with no posts, you can have 'tree'mendously cute tree bed-posts in no time. Keep the trunk of each tree in-tact along with the major branches and remove any scrawny growth. You can choose to have the bark removed or leave it on but thoroughly cleaning the wood to remove any creepy-crawly things would be a must. Using a spray gun you can add stain, glaze or paint to suit your preference.
Bolt the bottom area of the four trunks to each corner of your bed's frame and you have just added an immense amount of exclusive charm and distinctive uniqueness to your bedroom! Brace yourself for all the compliments your finished project will receive!
9: Log Shelf-supports:
This easy project simply involves cut log segments that will be perpendicularly attached to a wall where shelving will be utilized.  Each log piece (with bark or without) will be about 3 or 4 inches in diameter and will extend 6 to 8 inches from the wall--all depending on how large and hefty the shelves will be that will rest on top of the log supports.  You should use two log supports for each shelf. To increase the aesthetics, make sure the depth of the shelving is 1 or 2 inches less deep than the protruding log supports. This way, the logs will extend beyond the front edges of the shelving and become more evident—and showing off these log pieces is what this project is all about!
10: Tree-stump Planter:
If you are fortunate enough to have access to a large tree stump, you can do two fun things to upcycle the nifty hunk of log:
*** keep the bark in-tact but hollow out most of the interior and fill the space with nutrition-rich potting soil and add your favorite flowers and greenery!  The hollowed stump can, also, be coated with polyurethane and used as an ice-chest for bottled beverages!
*** level off the top of the stump and simply place a large, earthy pot on top, filled with colorful flowers and foliage!
Your hefty tree stump will survive the elements and add a touch of rustic charm to your porch, deck or patio!