How to Protect Your Log Home From Forest Fires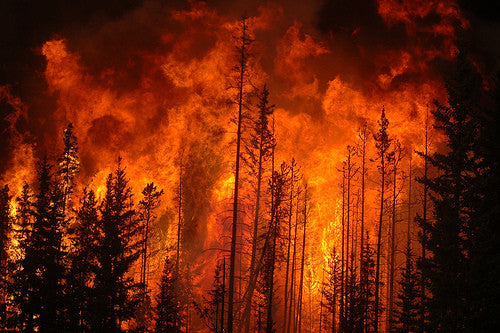 Losing your home to a wildfire is a devastating prospect. Several U.S. states have experienced forest fires due to dry weather conditions over the past few years, and those who own log homes are more concerned than ever with protecting their homes from the unthinkable. With wildfire season upon us, it's important to understand wildfire mitigation techniques that can help reduce your overall threat.
What Is Wildfire Mitigation?
Wildfire mitigation is the necessary implementation of multiple measures that are designed to minimize the destructive effects that wildfire has on residential and commercial properties. Certain measures may modify the forest environment itself, while others focus on modifying a specific structure or even changing its location to improve the structure's ability to survive a fire without depending on fire suppression resources.
Who Should Consider Wildfire Mitigation?
Anyone who lives in a forested area should consider wildfire mitigation methods. Heavily wooded areas are more prone to fires, and while western states are known for experiencing recurrent fires, it's a good idea to be prepared no matter where you live. As someone who owns a log home, you may be particularly worried about the safety of your home considering that it's made of the same materials that so easily catch fire in an uncontrolled blaze. Fortunately, even you can implement wildfire mitigation efforts to ensure that your home is as safe as possible.
Log Homes Already Provide an Extra Layer of Protection
Surprisingly, studies have shown that log homes are very fire-resistant, with certain types of woods performing better than others. Unlike the walls of traditional stick-built houses, log home walls are stacked and sealed with chinking to form a solid wall, which produces a much different dynamic when they're on fire. The result is more like a glued laminated beam than a solid wood wall, making it more difficult to burn. In other words, the size and diameter of the timber logs used in a log home make them harder for fire to access and use as fuel.
A log homeowner's wildfire mitigation should include researching and calculating the home's fire resistance rating based on the timber beam size, wood type, and other factors. This should also be taken into account when constructing a log cabin. Industry expert Dr. Dalibor Houdek even says that a typically constructed log wall "can achieve a very high fire resistance rating by itself, and additional steps to increase its fire resistance are not necessary." Still, there are other wildfire mitigation measures you can take to ensure that your home is sufficiently protected.
Take Care of the Immediate Area Around Your Log Home
Image via Flickr by cwwycoff1



Clearing and maintaining the immediate area surrounding your log home is one of the most important wildfire mitigation measures you can take. Flammable material such as dried leaves, twigs, needles, and other debris should be removed from your yard, roof, and gutters. You also want to keep any firewood away from your porch or deck. Ideally, firewood should be stored at least 30 feet away from the home.

Even if a fire doesn't come close to your property, flying embers can ignite debris on your property, threatening to spread to your home. Because of this, you'll need to clear your home's exterior and immediate area on a regular basis.

When it comes to clearing your yard of flammable debris, be sure to leave at least a five-foot perimeter around your log home that's completely free of vegetation or combustibles. It's still fine to landscape around your home, but you'll want to create a buffer zone and be mindful about how you landscape.
Remove Coniferous Trees Within 30 Feet of the Log Home
While it's okay to landscape within 30 feet of your home, keeping coniferous trees that close to the cabin could spell disaster in a wildfire situation. Deciduous trees like maple, hickory, and oak are more difficult to ignite, so it's okay to leave them alone as long as their branches don't hang over any structures. Coniferous trees like spruce, fir, and pine, on the other hand, are highly flammable when dry. Pine trees, for example, shed needles, are resinous, have low-hanging branches, retain dry needles, and feature dense foliage — all of which are risk factors in plant flammability.
Besides coniferous trees, grass can also advance wildfire. Certain local regulations forbid grass within 30 feet of a home, but if yours allows it, it's a smart idea to keep grass as short as possible to reduce its flammability.
Increase Spacing Between Trees
Whether the trees on your property grow near your home or up to 100 feet away, thinning existing trees can help reduce the chances that a wildfire will reach the canopy and spread across the tree crowns. If reducing a particularly dense area, keep the tallest, most structurally sound trees and the more fire-resistant species, and make sure each tree has plenty of space around it.
Additional Wildfire Mitigation Measures
To further protect your log home from wildfire, you'll want to focus on the zone ranging from 30 to 100 feet away from the home. This tends to be the area that transitions back to the natural environment, so it's often the most flammable. Trees should be pruned of any limbs below 10 feet or a third of the tree's height (whichever measures less), and any shorter trees or underbrush should be removed. If your lot slopes, you'll need to expand how far you clear the area on the downhill slope.
In addition to removing excessive trees and branches, it's also wise to remove the amount of fuel available on the forest floor. Too many downed trees and other plant life can increase the area's risk, but leaving a sufficient cover of leaves and twigs can help the soil retain its moisture. There's a fine line between clearing for protection and overclearing to the point of creating an unhealthy forest environment.
Taking steps to prevent a wildfire from destroying your log home is well worth the effort. Keep your home and family safe by expending a little bit of effort now to ensure that your property is safe this fire season.
Featured image via Flickr by Eggs&Beer