How To Decorate Your Log Home For Less - Five Fabulous Insights!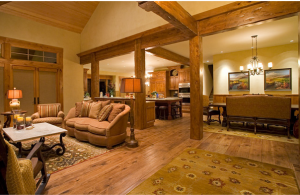 You have built the home of your dreams—a log home with rustic structuring, warm woods and a feeling of serenity and hospitality you knew you absolutely would not be able to acquire with any other style of home. Logs homes are unsurpassed in their ability to exude an emotional calm that has to be experienced to be believed and understood.
Let's suppose for a moment you really need some new furnishings for your new residence and a budget that can't be stretched very far right now—what can you do to fill your 'cabin-sweet-cabin' without breaking the bank? Actually there are five very practical things that can be done to turn your home's empty spaces into extraordinary places, with very little out-of-pocket discomfort! Let's find out how to decorate your log home for less.
1: Visit 2nd-Hand Stores:
When I say 2nd-hand stores, I'm referring to the Salvation Army, the Goodwill and other thrift stores that offer previously-used merchandise; and may I say, I speak from experience! In my own home, I have some fabulous pieces that generate compliments from anyone who walks through my front door. These are pieces I have repainted or antiqued to create a look so vastly different, the furniture's' previous owners wouldn't recognize them if they were six feet from them!
If you choose to visit any of these types of outlets, you must be able to see 'the big picture'—in other words, look beyond the mundaneness or lifeless exterior any of these pieces might have. A piece that looks 'blah' can take on a whole new dimension with a coat of fresh paint. Antiquing (with easy-to-apply antique-type paint) or distressing the wood (using a knife to carve a few notches here and there) will give any piece a rustic ambiance that log homes are made for. There's one other item that will need to be added (if applicable) that will act as the icing on top of the cake—new knobs! Hobby Lobby, for example, sells an eclectic selection of fabulous knobs that will cater to any taste—porcelain, metals, hand-painted varieties, woods, polished glass—you name it, it's there. For a mere $25 or so, you can purchase a 'no-nothing' piece and transform it into a thing of beauty—add another 5 or 10 bucks for knobs and you have just created an eye-popping table to be placed along one of your walls!
I can almost guarantee you, once you get started with this kind of project, you'll be hooked, partly due to the transformation you, yourself, will marvel at and partly due to the amount of money you will save!
2: Schedule Local Garage Sales:
Garage sales rock! Talk about eclectic! If you are looking for furniture pieces, don't bypass this valuable resource! The only catch is, you'll need to get up early to beat the crowds. And if some cool pieces of furniture are available, they won't last long! Some garage-sale items may just require a new coat of stain or wax while some might be begging for a new coat of paint; but here's the point: you can pay oodles of money for a new item that might cost $300 or you can shell out $30 for a piece that might require just a little bit of work—the choice is yours. But if money is tight, you can find quality items that just need a little TLC, a tad of creativity and a loving home. Oh, and don't forget bargains at flea-markets or on Craigslist!
3: Know Your 'Sale Months':
It's true, there are certain times of the year when retailers will attempt to liquidate certain furniture and accessory items, mainly due to wanting to make room for newer inventory—car lots are no different. Here's a brief overview of what you can expect to be on sale throughout the year:
*** January—flooring, miscellaneous furniture items and large appliances
*** February—mattresses & box-springs and home-theater items
*** March—on-line merchandise of all kinds begins to really go on sale
*** April—televisions, electronics and home-office furniture
*** May—mattresses and electronics (again) and refrigerators
*** June—recliners are a biggie for Father's Day
*** July—furniture, in general, will be on sale including high-end pieces during '4th Of July' promotions
*** August—mini-refrigerators, desks, small appliances, rugs and mattresses once more
*** September—patio furniture of all kinds *** October—large appliances and dining-room sets
*** November—look out for 'Black Friday' sales but the selections may be limited
*** December—bedroom furniture in particular—a good time to stay alert to various sales with retailers getting ready to make room for the next year's styles
4: Don't Be Afraid To Ask:
With the ability to connect with friends and family instantaneously via the Internet, it presents a wonderful venue for gathering up furniture and decorative items that might just be sitting in someone's attic, gathering dust. Don't be afraid to send out a Facebook page or mass email and ask those closest to you if they have any furniture pieces they are tired of and wouldn't mind parting with. An old couch for example, could be re-upholstered for a fraction of the cost of a new one, and the seats of old dining room chairs can be easily covered with a swatch of beautiful fabric, some foam padding and a staple gun! And by the way, Hobby Lobby sells some dynamite fabrics for this very purpose!
5: Take Advantage Of Nature:
If you have a large wall that needs to be decorated, for example, give nature a call! Spending an afternoon walking through the woods can offer up a treasure-trove of unexpected surprises. That large wall I mentioned would look fabulous adorned with a long, gnarly piece of a weathered branch that might be 5 or 6-feet long. It could be power-washed and left 'as is', or painted or stained and drilled into your wall of choice. Surround the wood piece with family pictures in rustic frames and voile`--you've fashioned your own masterpiece that would cost very little to create! You could even have the words: 'Our Family Tree'included in the mix since it would be a tree piece you used.
If you find a larger tree stump, grab it! It can serve as the base for a fabulous table. Have the top power-sawed to a flat surface and go to a glass shop and purchase a round piece of glass to adorn the top or leave the trunk-top as-is! The first step, however, would be to power-wash the trunk or you could clean it with a full solution of bleach to give the wood a whitened, fresh appearance. Cover with a matte or shiny polyurethane and you have a low-cost item for your home that will, definitely, become a conversation piece!
There are any number of ways to furnish and decorate your home with items that might either be free or cost very little! You can spend a minimal amount of money and still have your log home look like a million bucks!