Home Improvements that Increase Your Log Home's Value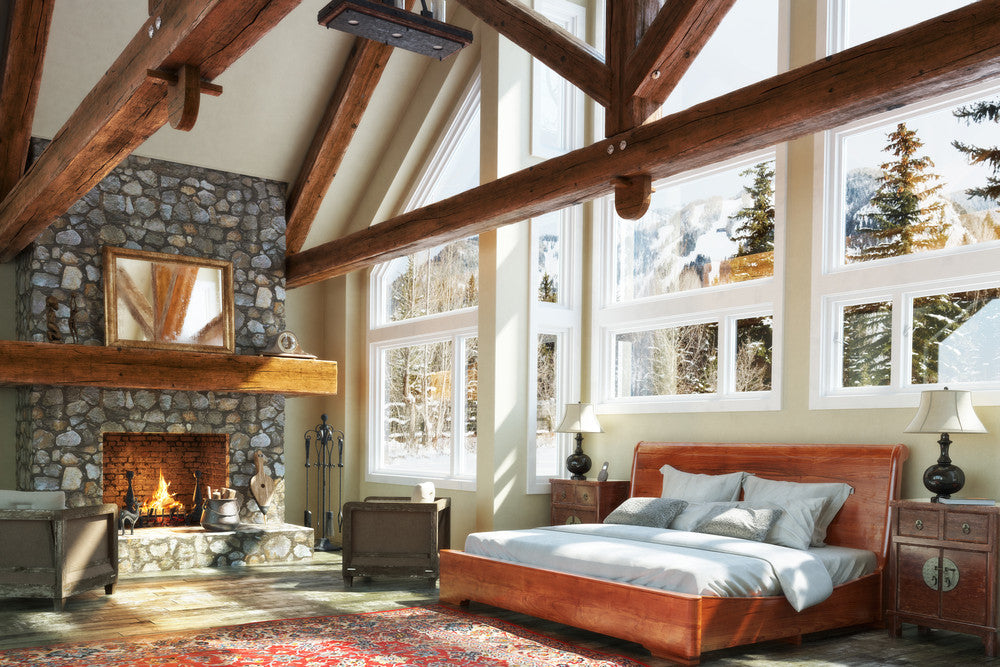 Owning a vacation home is a dream come true, and there's an undeniable quaintness and romance to having your own rustic mountain cabin. Once you've finally achieved your goal of buying a cabin, it's time to furnish and decorate it. But what if it needs some work? Doing some renovation and remodeling work for your winter cabin can add quite a bit of market value -- more, in fact, than you'll probably spend on the repairs. Suddenly, you've already made a return on your real estate investment.
Your cabin is more than just a place to spend time: it's a financial asset. Improvements like applying log cabin stain to wood, replacing windows, and installing new countertops can go a long way toward maximizing your brand new cabin's value.
1) Invest in new windows.
Here in the mountains, it gets cold and snowy in the winter. If you're spending a weekend at your cabin, you'll want to make sure you're protected against drafts. In the summer, it's essential that you stay cool and comfortable. If your cabin has climate control issues, despite a working furnace and air conditioner, the problem might be the windows. Installing new, weathertight replacement windows keeps drafts out, improving your energy efficiency and bringing down your cooling and heating costs. Replacing shabby old windows with rustic yet appealing new ones can also add some curb appeal.
2) Install hardwood flooring.
Does your cabin have faded tile, boring carpet, or cheap laminate flooring that's past its prime? You might want to consider installing real hardwood flooring instead. Hardwood is beautiful, durable, and aesthetically perfect for the kind of rustic interior design you find in cabins.
3) Install new countertops.
Why not take your countertops up a notch? If the existing counters are cheap-looking, or just not that appealing to you, granite looks great in rustic Northwestern style cabin kitchens. Granite is quite durable and scratch-resistant, giving it impressive longevity. It's available in a range of colors, both dark and light, and you can find granite that looks great with any kitchen design.
4) Paint the walls.
If the paint on the walls is chipped or scratched, they'll look a whole lot better if you repaint them. This also applies if the paint is just plain ugly -- after all, some people have no taste in color. If you're selling your cabin in the near future, it's good to go for neutral colors. These are easier for the new owners to paint over, and they don't distract potential buyers from structural and architectural aspects of your cabin's construction. If you're not selling, go wild with any color you'd like.
5) Add dual sinks to the bathrooms.
Sharing a sink with your spouse can get old pretty quickly. Between men's various shaving accoutrements, and women's various cosmetics and hygiene products, the countertop and sink can quickly become cluttered. Why not go for dual sinks? Installing dual sinks instead makes it easier for spouses, or for pairs of siblings, to share bathroom space comfortably.
6) Install a solar thermal heater.
Did you know that you can install solar panels as a green, eco-friendly way to heat water for cleaning and bathing? Investing in solar thermal heating can dramatically reduce your electricity or natural gas bills, meaning they'll eventually pay for themselves.
7) Use log cabin stain on exterior or interior wood.
Log cabin stain creates that distinctively rustic and timeless look we associate with log cabins. The stain allows the wood to retain its natural look, while still providing protection against moisture and other damage.
Adding Value to Your Cabin
A few minor improvements to your cabin could add considerable market value, as well as making it an ever more pleasant place to spend your time. Whether you opt for extensive renovations, or just a few coats of log cabin stain, it's a great way to maximize your investment.